HygiTec – Thawing : Innovative thawing of frozen food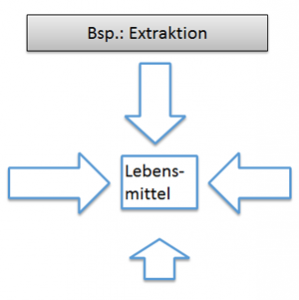 Water is a good solvent It also influences – Depending on the water hardness the osmotic pressure . With intensive contact with the food – soluble substances are dissolved or extracted . Thus, the food loses Colorants flavors but also weight (mass).
Novel antimicrobial based aerosol technology (Bio – Control), for an accelerated and hygienically safe thawing of frozen food (fish / meat …)
Accelerated thawing by improved heat – mass transfer
Decreased water losses
No drying of fish or meat products
Reduced energy demand
Simple computer-controlled technology , easily integrated in operation
Improved product quality , higher yields
Optimized process and product hygiene : Improved seed status compared
Improved functionality of the thawed products during further processing
With the HygiTec – thawing begins a new era for the thawing of frozen foods
Advantages over conventional methods: Energetic, temporally, qualitatively high hygienic microbial safety of process and product
Novel Computerized thaw process

Better moisture distribution / control through ultrasonic generated aerosols

Maintaining the AW value during thawing
Control of the set product parameters under hygienic conditions
The thermal conductivity is enhanced by the 3-5μ large aerosol droplets by a multiple
Energy and thawing times are reduced by about 30-40 %
The quality characteristics of the treated by HygiTec products are in appearance, taste in natural color exceptionally well
Very high hygienic – microbial product and process quality and safety
The in conventionally Thawed products occurring mass loss and drying out of the surface , we greatly reduced
Prior thaw technology
For the Industrial thawing different applications are used :
Frozen goods is thawed in thawing at room temperature uncontrolled and time intensive
Thawingrooms or tunnels , heat by moving air, moisture is supplied by steam. High energy costs and relatively long thawing time
Spraying tap water or heated water through irrigation . High water consumption and different depending on the season thawing
Heat generation by high-frequency equipment ( microwave ) are expensive high investment costs and non-uniform heating is possible

Thawing in moving water or water baths ( especially for fish ) have a high water consumption and strong nucleation possible

As well as div. other methods

In the above process some drawbacks are to be expected:
Mass loss, partially up to 10% – less flavor and color loss

Structure and texture are adversely affected by the weakening of the cell walls not only the appearance is negatively affected , and flavors , minerals and vitamins are lost , thus it comes to be like straw and the taste is less intense

In the further processing step on negative reactions , such as the adhesion is lost in the breading
Problems freezing and thawing: properties of ice
The freezing process including conventional thawing leads to changes in food examples:
Cell matrix changes by freezing and thawing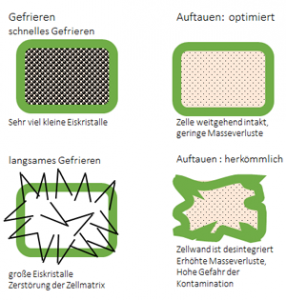 Precipitating proteins
Mechanisms of protein precipitation – by slow freezing at low temperatures can lead to precipitation of proteins. Once the hydrogen bonds are disrupted by the withdrawal of the solution water. In addition, the acute water ice , which destroy the spatial structure of the protein molecules mechanically. Proteins gone lost by increasing the temperature also. Here areas of the protein molecule to be offset by the thermal motion to vibrate. Upon cooling, the original structure can not regress again.
Increased oxidative degradation of lipids
Under lipid peroxidation refers to oxidative degradation of lipids. In this process take reactive radicals , electrons of lipids in the cell membrane and thus set a chain reaction that leads to cell damage Lipid peroxidation is also responsible for the destruction of animal and vegetable oils and fats.
Dehydration and loss of taste
 So may, for example by the action of cold freezer burn a food – the food is characterized dry. As a result, the pH decreases, the muscle proteins contract ( rigor mortis ) and lose their ability to retain water – the meat is dry and tough.
Shape and structure of the cell is destroyed
When thawing in a water bath the fish continuously rinsed with water . The fish can withstand contact with water but not too good . It destroys the cell structures and allows the fish to get soft, pale and bland.
Significant limitation of water retention
 As the balance of the osmotic concentration gradient runs , depends mainly on the rate of thawing.
Increased microbial contamination

Adverse sensory quality characteristics